Problem
Malnutrition is a serious public health issue and a major factor in morbidity and mortality. Pregnant women and young children are especially vulnerable due to the additional nutritional demands of rapid growth. Malnutrition is the direct cause of thousands of deaths each year, as well as a contributing factor in more than one-third of all child deaths, and these deaths are generally avoidable. Nutritional interventions during pregnancy, postpartum, and early childhood can help to reduce childhood morbidity and mortality while also ensuring normal child development.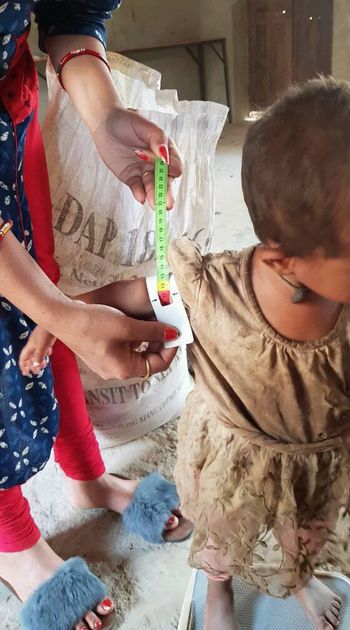 Solution
Growth monitoring (measuring and charting children's growth) provides a cost-effective opportunity to identify growth issues before severe malnutrition manifests itself. The Health Foundation Nepal has been working in Nepal to improve the nutritional status of children under the age of five and women of reproductive age. This project's major activities include community mapping, door-to-door visits to assess nutritional status of children aged 5 and women of reproductive age (15-49), identification of the problem (prioritization of real needs), intervention implementation within a specific time frame (1week), intervention follow-up on a regular basis, recording and reporting dissemination, and community and school-based BCC activities.
Impact
Working Since 2015
Since 2015 HFN is also providing Nutrition and MCH service and also supplements to Moderate and Severely Malnourished children.
5381
HFN has conducted nutrition screenings on 5381 children under the age of five. 
443
231 moderately malnourished children were supported by providing Litto and Egg or milk and lotto to 212 severely malnourished children. 
Very severely malnourished were also referred to "POSHAN GRIHA"and "SUAAHARA". 
57
31 postpartum mothers and 26 pregnant women were given nutrition counseling and follow-up via phone calls. 
1327
1327 community people and adolescents were made aware of BCC activities on MCH and Nutrition.